Scottish Water Learn to Swim Provider of the Year Award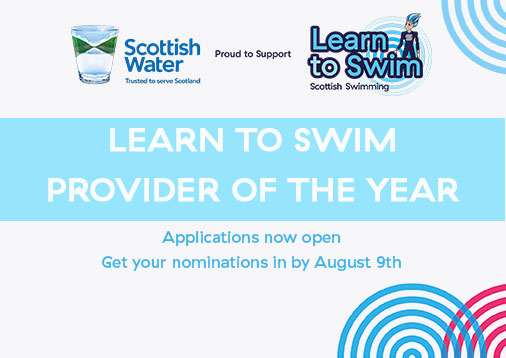 Applications open Monday 15 July and close on Friday August 9.
We believe that quality learn to swim environments are essential to ensuring children and adults learn to swim in a fun, progressive and nurturing way. There are a number of learn to swim providers in Scotland who are affiliated to Scottish Swimming and we would like to recognise the great work they do through the Scottish Water Learn to Swim Provider of the Year Award.
NOMINATION PROCESS & GUIDELINES
Nominations for Scottish Water Learn to Swim Provider of the Year are invited from any current affiliated Learn to Swim (LTS) provider.
Nominations can be made by any affiliated LTS provider.
Nominations must be shown to have made an outstanding contribution during the last 12 months
Nominations will only be accepted via online application
In considering nominations the panel will look for information on achievements of nominees during the last 12 months (A detailed account of achievements should be provided to assist the Selection Panel)
Selection Panel, 3 from a selection of:
Director of Development
Marketing Manager
Participation Programme Manager
Club Development Manager
SASA President
SASA Vice President
Scottish Water Representative
Board member
All sections must be completed by applicants. Incomplete applications will not be accepted
All nominated LTS providers will be informed of the outcome of the selection process
Structured feedback will be provided upon request
The selection panel's decision is final
Completed applications should be received by Scottish Swimming no later than 5pm on the submission date. The online form will not be accessed beyond this point.
The winning LTS provider will be invited to the Scottish Swimming Awards evening, held in Glasgow on September 28th. (3 representatives).
The winning LTS provider will be presented with an Award on the night and will receive a 90 minute Learn to Swim session with Duncan Scott, International Swimmer and Scottish Swimming LTS Ambassador (to be used within 6 months of the award being presented). In addition the winner will receive an education voucher up to the value of £1000.