Shaw Announced as Learn to Swim Ambassador
European Champion Toni Shaw was unveiled as a Learn to Swim Ambassador on 13th November for Scottish Swimming's National Framework for Swimming in Scotland, proudly supported by Scottish Water.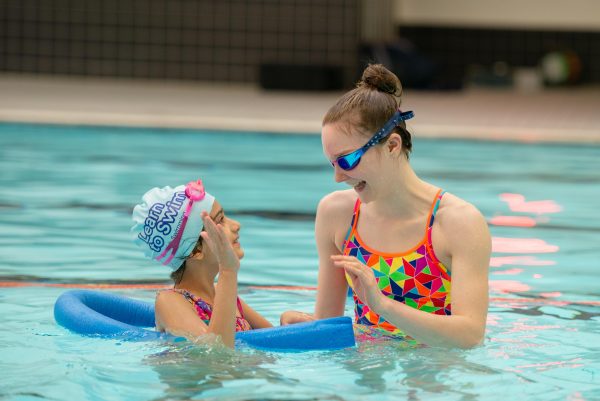 Shaw, who was Team Scotland's youngest athlete on the Gold Coast, went onto win six medals at the World Para Swimming Allianz European Championships in Dublin in August on her senior GB debut.  As an Ambassador she will work alongside Duncan Scott to help highlight the benefits of learning to swim from as young an age as possible, as Scottish Swimming roll out the National Framework for Swimming across Scotland.
Shaw joined 30 children from Hanover Street School in their swimming lesson at the Aquatics Centre, Aberdeen Sports Village, shared some tips and took part in a question and answer session. Shaw, who swims with the University of Aberdeen Performance Swim Team said,
"I'm really proud to be named as an Ambassador for the Learn to Swim Programme. My swimming journey is really no different from how these children are learning. I had lessons at Northfield Pool, enjoyed them and was then encouraged to join the local swimming club, Cults Otters."
Shaw who competes in the S9 classification, which includes athletes with a range of impairments, said of the National Framework's approach to swimmers with a disability,
"I am really pleased that swimmers with disabilities are taught in an inclusive learn to swim environment. If there is someone with a disability and the swimming teachers are aware of their impairment the lessons can be adapted as required.  It has been great to develop as a swimmer and be seen beyond my disability, this has helped me integrate into a performance environment where I get to train alongside the likes of Hannah Miley."
Gavin Macleod, Chief Executive of Scottish Disability Sport, said: "Scottish Swimming is a great example of an SGB that is committed to and actively delivering their sport in an inclusive way and this is particularly prominent with their work around the Learn to Swim Framework."
Forbes Dunlop, Chief Executive of Scottish Swimming, said: "Introducing swimming at an early age brings a whole host of benefits for children. We are delighted to have Toni on board as an Ambassador for Learn to Swim in Scotland; she is a fantastic example of what hard work can achieve."
"Thanks to Scottish Water's support and the hard work of our country's leisure trusts and aquatic providers, Scottish Swimming is able to roll out the National Framework which will ultimately reach over 100,000 young people."
Brian Lironi, Director of Corporate Affairs with Scottish Water, said: "This is an excellent scheme for us to be involved with in so many ways and we're proud to support it.
"The programme equips children with key, life skills that will help them to be safer in the water, whether at their local pool, at the beach on holiday or even just out and about around Scotland's miles of coastline, rivers and lochs."
The Learn to Swim Framework helps to create quality Learn to Swim environments for children from birth upwards where they can become competent, confident and safe swimmers with opportunities to progress through the aquatic pathway and to swim for fun.
There are already more than 75,000 kids – including 5,600 pre-school children – who are on the programme and the target is to reach 100,000 children across Scotland by 2020.