Swim Star Makes Waves in Perth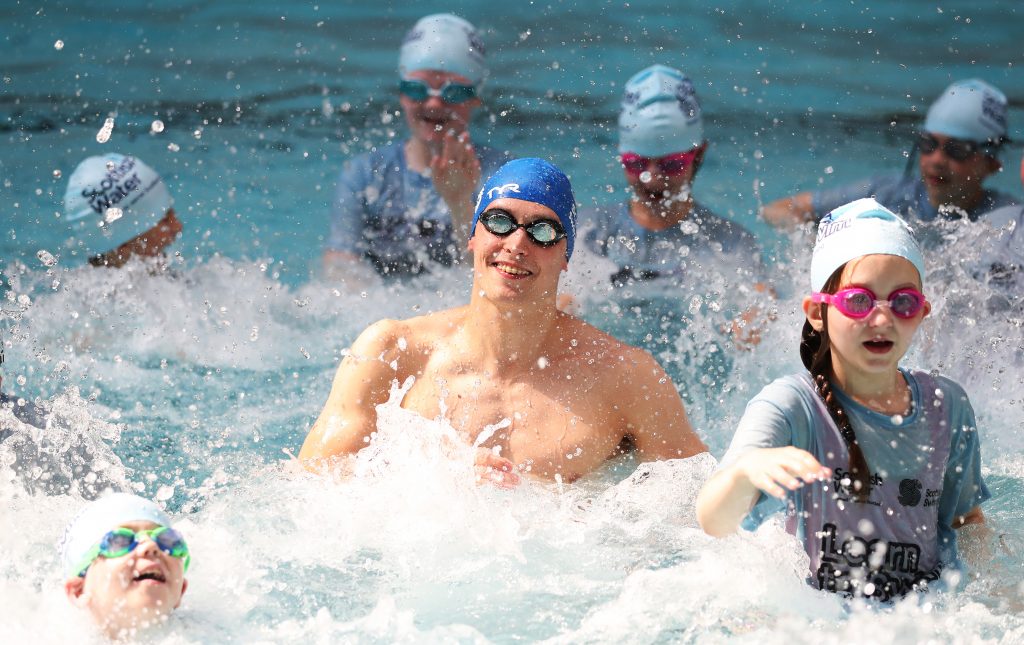 LOCAL Olympic Swimmer Stephen Milne joined kids in the pool this month to celebrate the success of a national programme that's teaching youngsters to learn to swim.
The one-of-a-kind swimming lesson took place at Perth Leisure Pool on 27th August – a pool where Stephen has done much of his training to take him to the big stage.
Scottish Swimming's Learn to Swim Framework proudly supported by Scottish Water and delivered by 37 Leisure Trusts and aquatic providers across Scotland, teaches over 78000 children across Scotland to Learn to Swim and there are already almost 2500 kids of all different abilities in the Perth Live Active Leisure programme.
Kids involved in the launch had the chance to ask Stephen Milne, Olympic Medallist, for his top tips and swimming advice in a Q&A session on the day.
Stephen Milne commented
"I have had a great day here in Perth where I started my own swimming journey through Learn to Swim, club swimming and into the performance pathway supported by Live Active locally, Perth City Swim Club and Scottish Swimming."
Euan Lowe, Chief Executive at Scottish Swimming, said:
"Perth is a real community hub for Learn to Swim, club swimming and recreational fun swimming.
"With an estimated 40% of children unable to swim by the time they leave primary school, it's fantastic to see Perth committed to making sure that local kids get to learn this essential life skill."
There are already more than 78,000 kids – including 5,600 pre-school children – who are on the national programme and the target is to reach 100,000 children across Scotland by 2020.
Phil Coleman, Sport Manager at Live Active Leisure, said: "We've worked hard to ensure a seamless transition to the new framework and we're delighted to be part of the national programme. Having Stephen support our official launch is fantastic – he's a local hero here and an inspiration to all the local children!"
Perth recently played host to the launch of the water safety campaign in June which saw the 25-year-old swimmer demonstrate how best to stay safe in and around the water.
Live Active Leisure also have excellent links with local swimming clubs: Perth City Swimming Club, Blairgowrie Dolphins and Kinross Otters who had young swimmers attending the launch to join the Q & A and swim with local hero, Stephen at the later club session on Tuesday.
All clubs are currently accepting and encouraging new members and offer friendly environments for children to participate.
Brian Lironi, Director of Corporate Affairs for Scottish Water, said: "We're proud to support this programme as it equips children with skills that will help them to be safer in the water – whether at their local pool, at the beach on holiday or even just out and about around Scotland's miles of coastline, rivers and lochs.
"It also partners perfectly with our Your Water Your Life campaign. We want to encourage young swimmers, like everyone, to stay hydrated – and what better way to do that than to enjoy the great tasting, fresh Scottish water straight from the tap?"
A recent study of the impact of the Learn to Swim programme has found overwhelming approval from parents and from managers tasked with delivering the lessons across Scotland.
The Framework helps to create quality Learn to Swim environments for children, giving them opportunities to progress on to club swimming through the aquatic pathway and to swim for fun